Virtuality lifts VR to a whole new level with this Haptic Feedback Vest. This vest consists of more than fifty points that react to your own actions and those of others. Battle your friends, for example, during a game of paintball! Not by shooting with real paint but by virtual paints.
When playing paintball, the vest allows you to move, just like you would do during a paintball game in a hall or forest. Squat, hide and shoot in the direction of your opponents at the right time! When you are hit yourself, the Haptic Feedback Vest will make you feel it.
No need to be afraid, the game can be played by those 8 years old and over! Come and battle your group of friends and plan your day out to Virtuality for an exciting game of paintball.
Please note: we are the only ones in the world with this unique Haptic Feedback Vest in combination of Paintball!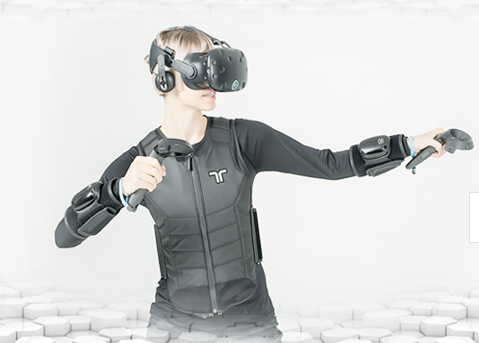 LET'S GO FOR IT! BOOK NOW
VR Amsterdam – Virtuality
Westerdoksdijk 525
1013 BX Amsterdam
 kvk: 01118022
tel: 020 737 1405